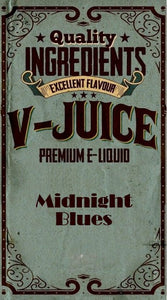 Midnight Blues
If a long day has dragged your spirits down, Midnight Blues is just what you need. It's cool and refreshing flavour will bring you back up to speed. An odd yet satisfying concoction of Rainbow Sherbet, blueberries, and whipped cream with just a touch of Koolada makes this flavour a world full of chill.

Flavour Notes: Rainbow, Sherbet, Blueberries, fruit, cold, cream, creamy

Available with Freebase or Salt Nicotine:
Nicotine Strength: 0, 1.5, 3, 4.5, 6, 9, 12 mg/mL
Base (VG/PG): Max VG, 70/30
Sizes: 60 mL, 120 mL, 240 mL (2 x 120 mL)

Available with High Nicotine Strength:
Salt Nicotine: 20 mg/mL
Base (VG/PG): 50/50
Sizes: 60 mL

The price of this product includes the new Federal Excise Tax implemented on January 1, 2023 ($10 on 60 mL bottles and $16 on 120 mL bottles).


---
We Also Recommend