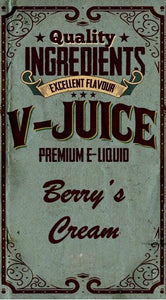 Berry's Cream
Creamy, sweet and fruity are the three words that should come to mind when Berry is in season. Strawberry, Raspberry and, of course, some of that creamy goodness on top.

Flavour Notes: Strawberry, Raspberry, fruit, cream, creamy

Available with Freebase or Salt Nicotine:
Nicotine Strength: 0, 1.5, 3, 4.5, 6, 9, 12 mg/mL
Base (VG/PG): Max VG, 70/30
Sizes: 60 mL, 120 mL, 240 mL (2 x 120 mL)

Available with High Nicotine Strength:
Salt Nicotine: 20 mg/mL
Base (VG/PG): 50/50
Sizes: 60 mL

The price of this product includes the new Federal Excise Tax implemented on January 1, 2023 ($10 on 60 mL bottles and $16 on 120 mL bottles).


---
We Also Recommend