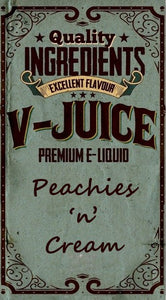 Peachies 'n' Cream
A classic favourite of many, Peachies 'n' Cream delights the senses with gummy peach swimming in a feathery light cream. It's an experience sure to please your sweet tooth.

Flavour Notes: Peach, fruit, cream, creamy

Available with Freebase or Salt Nicotine:
Nicotine Strength: 0, 1.5, 3, 4.5, 6, 9, 12 mg/mL
Base (VG/PG): Max VG, 70/30
Sizes: 60 mL, 120 mL, 240 mL (2 x 120 mL)

Available with High Nicotine Strength:
Salt Nicotine: 20 mg/mL
Base (VG/PG): 50/50
Sizes: 60 mL

The price of this product includes the new Federal Excise Tax implemented on January 1, 2023 ($10 on 60 mL bottles and $16 on 120 mL bottles).


---
We Also Recommend